The Surfer's Journey Immersion Retreat Program
At Jade Retreat Center
Nosara, Costa Rica
About the Program
Created and taught by physician, surfer, author, and leadership professor, Dr. Don Kennedy, thus all inclusive retreat takes the participants on an seven-day mental and physical immersion into the surfing and Costa Rican culture. For our clients working in the legal profession, this also means earning 13 hours of Continiung Legal Education (CLEs).
Who Should Attend the Program?
Applications are open to anyone who is hearing what we call the voice in their onshore breeze telling them, "There's got to be more to life."
The program has taught attorneys, executives, leaders, physicians, educators, engineers, spouses, college students, and others.
Remember, this is a mythological immersion where no one knows who you are. You get to become the kid again, to play, to discover, to take risks, and let mother ocean, the howler monkeys, the sunsets, and rich discussion teach what's important in the 29,200 days you've been given.
*Although most retreats in Costa Rica are limited to 8-12 participants, larger groups up to 25 can be accommodated during and other than the scheduled dates.  
[Contact Dr. Kennedy via email, application or call for further discussion.]
Applying to the Program
Acceptance to one of the events is based on space available as well as the applicant's needs and expectations. The application can be completed at www.drdonkennedy.com/retreats
Once an application is submitted, Dr. Kennedy, or one of his staff, will contact the applicant for further discussion and to answer questions.
The Program Content
The program content is based on the ten-core principles of surfing, self-discovery, and leadership take from Dr. Kennedy's textbook, The Surfer's Journey: The Path to Transformational Heroship
These research-based principles, along with other writings, act as a guide and challenge students to step beyond the confines of his or her present context, by paddling off of what we call the Island of Same to begin a new journey, to re-discover their natural nature and true calling. We call them transformational heroes:
Fearless cause-driven individuals who wake each day to inspire, teach, and improve all they touch. That's you.
As shown in the example program schedule, each day presents a different and additive theme and experience that focuses on reawakening an imagination that has been dulled for too long.
What to Expect and Learn
This is not a how to curriculum, it a what if experience. The immersion's daily content-based themes, presented by Dr. Kennedy and other teachers and mentors, are customized for each event to create an environment that encourages freedom of thought, creativity, self-examination, and a spiritual re-awakening.
As is taught by the mythological tale in The Surfer's Journey, you must leave the world you know and cut your own life path. That's called beginning again. It's called finding and riding your perfect wave of bliss. And, it's about becoming the hero your family, your profession, and the world has been waiting for. It's time.
"There are things I can say and do, and decisions I can make as a leader that will help other people as a result of what I gained from this seminar."
Included in the Program
Transport to and from the Liberia Airport as well as local planned transportation
Accommodations (see below)
All planned excursions and activities such as

Surfing, Zip-line, Yoga at Jade, Horseback riding, Quad, and others

Three meals prepared by the Jade Retreat chef
All activity materials including action guides, journals, and other supplies
Personal mentoring by Dr. Kennedy or other instructors by appointment
About the Pre-Program
In preparation for the most important journey of your life, all participants will receive the following prior to the trip:
A Preparation Guide to insure you have all you need for a safe trip to Costa Rica
A copy of Dr. Kennedy's The Surfer's Journey textbook to read before the event
Further information about Nosara: What to do and where to go in your free time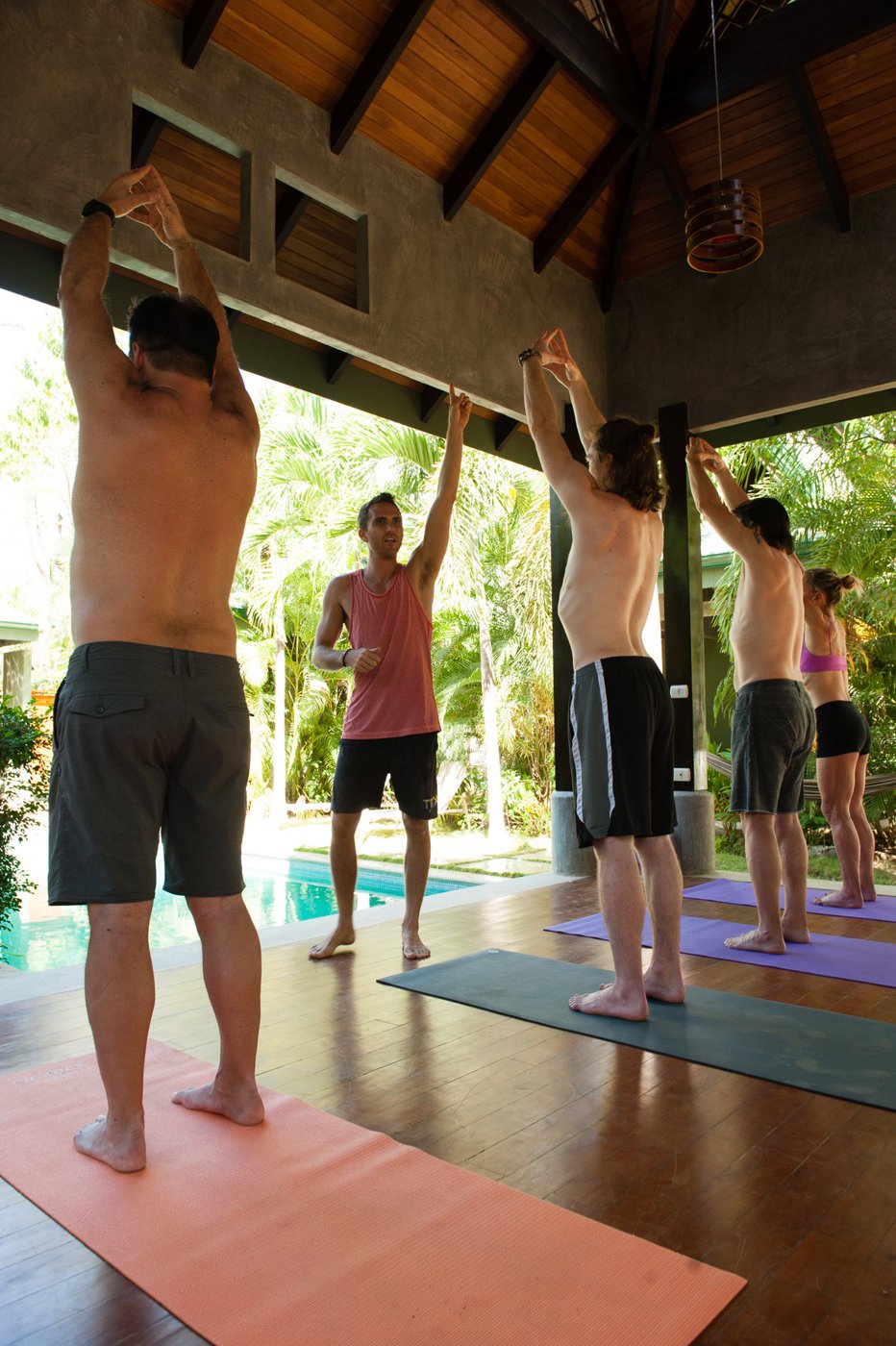 Accommodations, Cost, and Payment
The exclusive Jade Retreat Center houses 5 Suites, each with a queen bed and single bed as well as two bunk-bed suites, each with two sets of comfortable bunk beds.
The cost of the program is based on the accommodations and number of people in each room as shown.
Program Cost and Payment
*Inclusive Cost Per Person
| | | |
| --- | --- | --- |
|   | 1 Person | 2 People |
| Individual Suite | $6400.00 | $4400.00 pp. |
| Bunk Suite | $4500.00 | $3000.00 pp. |
*Note that the cost is the same whether or not participants (spouses, etc.) choose to take part in the program
Payment
A 50% payment is due at the time of acceptance with the balance due within 30 days of that acceptance.
Full refund is available within the first 30 days of acceptance.
A 50% refund will be made up to 30 days prior to the event.
Refunds past the 30-day deadline to the event will be taken on a case basis.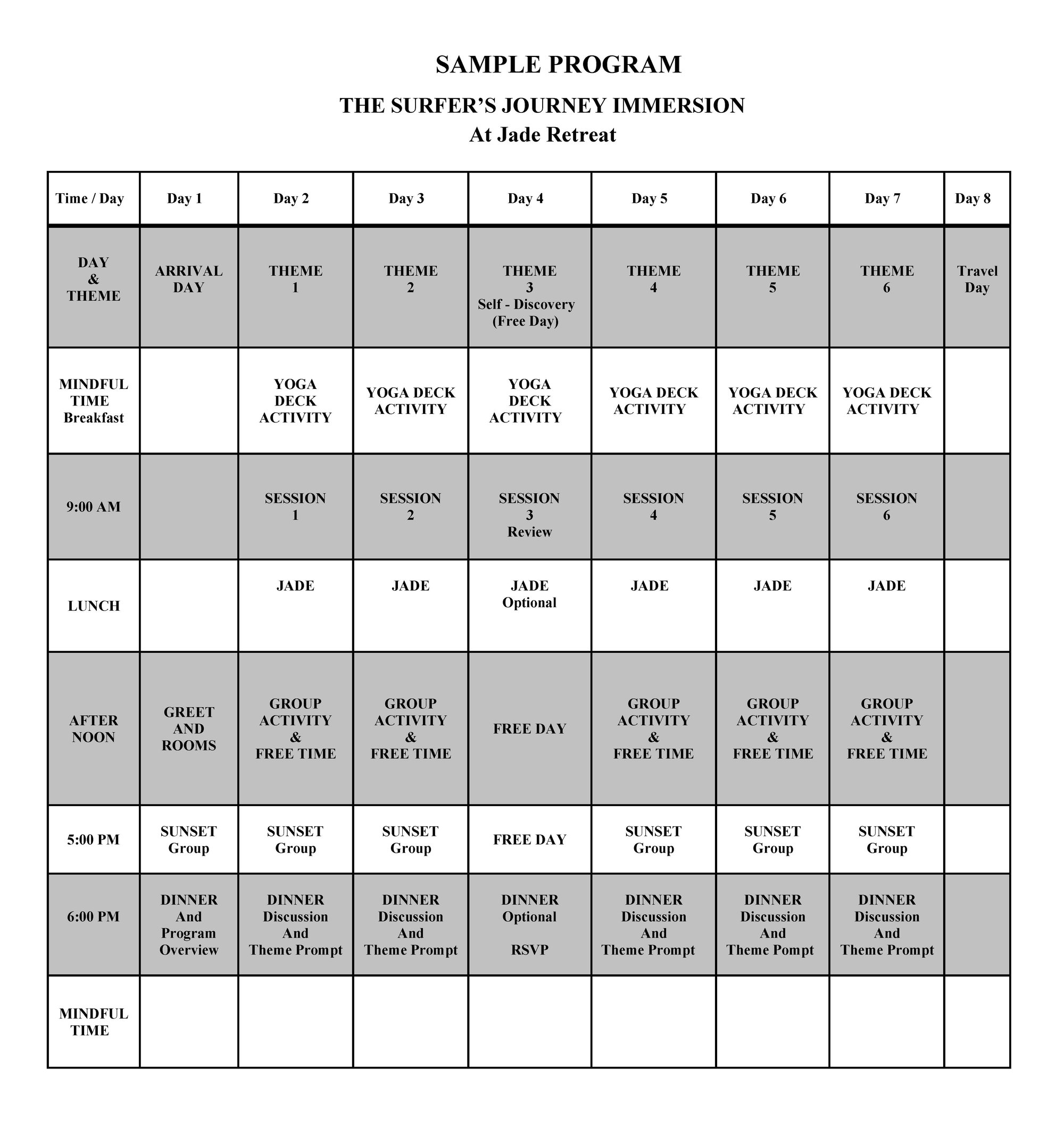 Please complete the application for The Surfer's Journey Immersion program and a member of our team will contact you within 24 hours.
Surf Retreat Sign-Up Form
"The choices you make must be driven by your dream and what is right for the people you will touch and lead."
Malu
The Surfer's Journey